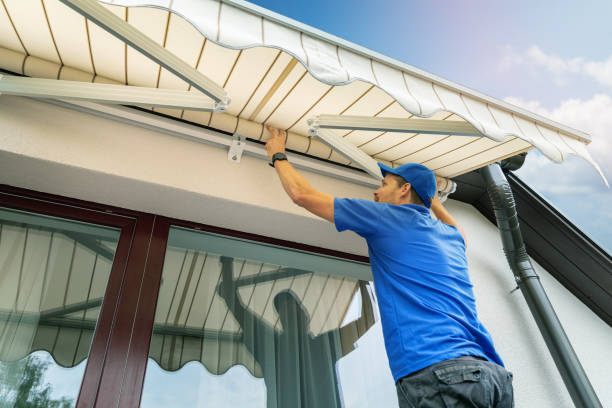 As many Arizona homeowners can attest, retractable awnings create comfortable outdoor spaces for your family to enjoy year-round. However, routine cleaning and maintenance are essential to prolonging their lifespan and keeping them functioning at their best.
So, if you're wondering how to clean canvas awnings, you've come to the right place. AZ Sun Solutions is the leading provider of sun solutions in Phoenix, and our experts are revealing how to clean canvas awnings in today's blog post:
Steps to Cleaning Awnings
To keep your awnings performing at their best, you should clean them every couple of months. For optimal results, follow these simple steps:
Brush Off Debris
Because retractable awnings are installed on the exterior of homes, it's not uncommon for them to pick up a bit of dirt and debris. The first step to cleaning canvas awnings is to brush off any debris or loose dirt with a soft-bristled brush.
Hose Off
After you've brushed the dirt away, you'll want to rinse your awning with a garden hose. Some people might want to use a powerwasher, but we strongly advise against it. Most power washers are too vigorous for canvas awnings.
Prepare a Cleaning Mixture
Next, you'll want to make a cleaning mixture. For optimal results, combine equal parts water and mild, natural soap (stay away from detergents and harsh chemicals).
Scrub it Down 
Using a soft bristle brush, scrub the cleaning mixture into the awning. Feel free to pay special attention to pesky dirt and stains. However, remember to scrub gently.
Soak, Rinse, and Dry
After you've scrubbed the awning, allow the soap to soak into the fabric for a few minutes. This will make sure your awning comes out squeaky clean. After it has soaked, rinse thoroughly with a garden hose and let the awning air dry.
Tips for Cleaning Canvas Awnings
While cleaning canvas awnings isn't exactly rocket science, there are a few things to keep in mind. Below are some expert tips and tricks:
Use lukewarm water. For optimal results, clean with cold to lukewarm water. You should never use anything above 100​​°F on your awing, as this could damage it.
Stay away from detergents. Harsh chemicals can damage the awning and sacrifice its integrity. Stick to mild soaps like Dawn or Ajax instead.
Always air dry. Awnings and extreme heat are not a great match. Always air dry your awning instead of applying heat. (Trust us – the Arizona sunshine will have your awning dry in no time.)
Phoenix's Top Sun Solutions
Not only do retractable awnings extend your living spaces outdoors, but they help control the temperature of your home's interior (which lowers your energy bill). However, awnings must be regularly cleaned to continue functioning at their best. If you didn't already know how to clean canvas awnings, we hope today's blog post cleared the air.
AZ Sun Solutions boasts a five-star selection of retractable screens, awnings, and rolling shutters to protect your home from that blazing Arizona sunshine. Contact our team, and we'll help you find the perfect sun solution for your needs.